Rakhshan Banietemad's Social Realism: A Close Look at Her Documentary Films
When and Where
Tuesday, February 16, 2021

4:00 pm

to

6:00 pm
Speakers
Rakhshan Banietemad
Maryam Ghorbankarimi
Description
Rakhshan Banietemad is an auteur Iranian director through the unique social realism she has developed in her films. She combines her access and knowledge obtained through her research and documentary films to create a believable 'realistic' setting for her fictional films. Looking at her documentary body of work, Banietemad has been an artist in constant search for her next topic and has patiently developed her next feature film inspired by her documentaries. Although her auteurship is evident in her films through recurring links and themes, it is through her documentaries that we really see her critical and clever approach at work. This paper will look at some of her lesser-known documentary works that I agues are the source and drive of her unique style of filmmaking. This paper will focus on her films Centralization (1986), To whom do you show these films? (1993), Under the Skin of this City (Documentary, 1996), Our Times (2002), We are half of Iran's Population (2009), Mahak my Home (2014) to name a few.
Maryam Ghorbankarimi is a lecturer in film practice at Lancaster University. She completed her Ph.D. in film studies at the University of Edinburgh in 2012 and her dissertation was published as a book entitled A Colourful Presence; The Evolution of Women's Representation in Iranian Cinema (Cambridge Scholar 2015). Her edited volume ReFocus: The Works of Rakshan Banietemad is coming out in March 2021 (Edinburgh University Press). Maryam is also a filmmaker; she has made some award-winning short films in both short documentary and fiction formats. Her current research is on transnational cinemas and cultures, specifically the representation of gender and sexuality in Iranian and other Middle Eastern cinemas.
Organized by the Toronto Initiative for Iranian Studies in collaboration with the Department of Near and Middle Eastern Civilizations; the Department of History; the Department of Historical Studies; Women, Gender & Sexuality Studies—UTM; the Cinema Studies Institute; the Centre for Comparative Literature; Critical Studies in Equity and Solidarity; the Department of History (York University), and the Department of English (Ryerson University).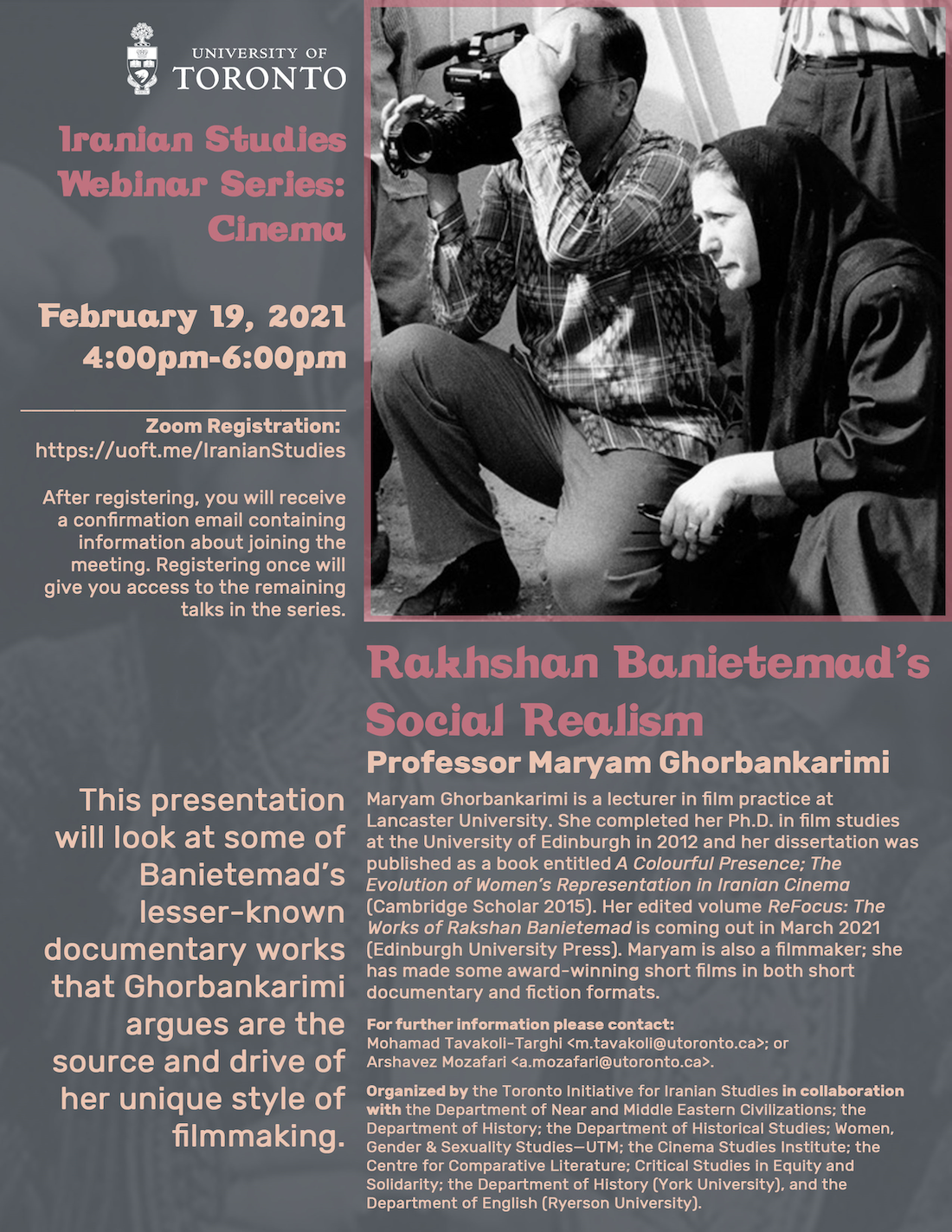 Sponsors
Initiative for Iranian Studies, Near and Middle Eastern Civilizations, Department of History, WGSI, among others