Public Lecture by Professor Jeffery Hewitt: Fragmented Promises, Pentimento, & the Salvage Paradigm
When and Where
Thursday, November 05, 2020

11:00 am

to

12:15 pm
Speakers
Professor Jeffery G. Hewitt of Osgoode Hall Law School, York University
Description
Please join Professor Jeffery G. Hewitt of Osgoode Hall Law School, York University, for his lecture: Fragmented Promises, Pentimento & the Salvage Paradigm.
This talk considers the meaning of promises un/made and re/made through worldmaking in common law, constitutional narrative, treaties with and oaths taken by the Crown. Together, we will examine worldviews reinforced through art and visual culture that romanticize Indigenous peoples, idealize empty promises, and fragment meaning.
This lecture is part of the larger workshop: Making Promises: Oaths, Treaties, and Covenants in Multi-jurisdictional and Multi-religious Societies. Hosted by the Religion in Public Memory initiative.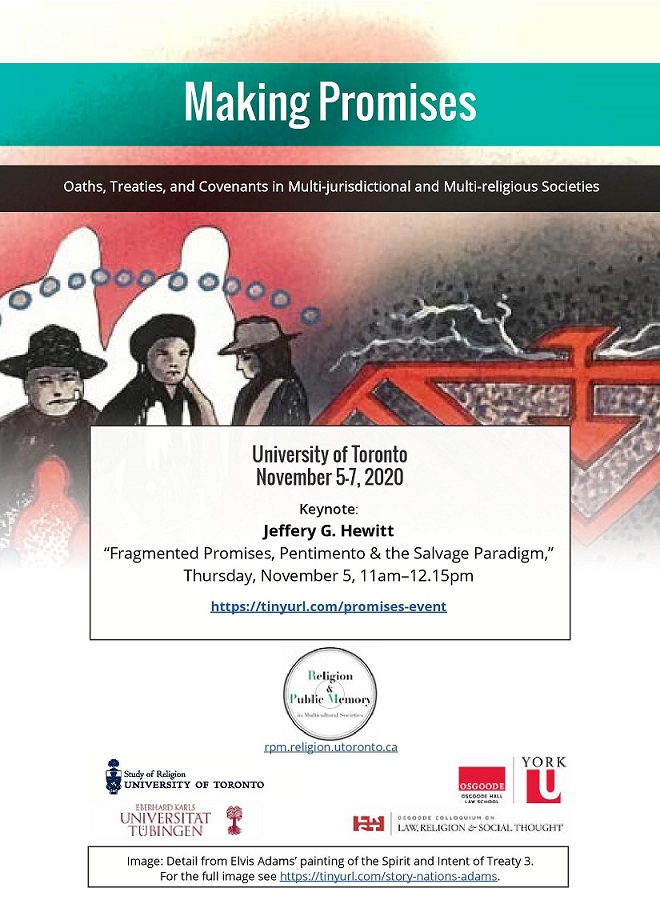 Sponsors
The Religion & Public Memory initiative at the University of Toronto, University of Tübingen