CRRS Working Group Spring Colloquium Keynote: Can You Be White and Hear This: The Racial Art of Listening in American Moor and Desdemona
When and Where
Friday, May 07, 2021

4:00 pm

to

6:00 pm
Speakers
Kim F. Hall (Barnard College)
Description
A Message to Members of the U of T Community:
As you know, the Canadian Association of University Teachers recently voted to censure the University of Toronto because of the Administration's failure to resolve concerns regarding academic freedom stemming from the decision to cancel Dr. Valentina Azarova's hiring in the Faculty of Law. Out of respect for and in solidarity with the censure, Professor Kim F. Hall (Barnard College) has cancelled her planned keynote lecture for our Spring colloquium on May 7th after consultation with the organisers. Professor Hall looks forward to the opportunity to visit campus once satisfactory changes are made at U of T and the censure has lifted. More information about the censure is available here: https://www.caut.ca/latest/2021/04/caut-council-imposes-rare-censure-against-university-toronto-over-azarova-hiring
---
This talk examines the ways that Keith Hamilton Cobb's American Moor and Toni Morrison and Rokia Traoré's Desdemona address the whiteness of the various "industries" that discipline black responses to Shakespeare. Their appropriations of Shakespeare's Othello speak over what W.E.B. Du Bois called the color line by performing conversations that highlight the missed readings and over-readings in the play. Drawing on Jennifer Lynn Stoever's The Sonic Color Line, I suggest that Morrison, Traoré, and Cobb are "theorists of listening" and of whiteness. Their plays demonstrate how Black speech and articulated Black experience are continually conditioned for white consumption. 
American Moor stages the ways the Black actor's verbal and emotional exuberance is channeled and shaped by white interlocutors. Desdemona, by resituating Desdemona in the afterlife, is able to work around whiteness' refusal to hear  and create a listening space. Both pieces hold out hope for generative conversations across racial and historical divides, but make clear that true change will take place only with both Black decolonization and white unlearning.
Kim F. Hall is the Lucyle Hook Chair of English and a Professor of Africana Studies at Barnard College where she teaches courses in Early Modern/ Renaissance Literature, Black Feminist Studies, Critical Race Theory and Food Studies. She is the author of Things of Darkness: Economies of Race and Gender in Early Modern England, Othello: Texts and Contexts and The Sweet Taste of Empire: Sugar, Gender and Material Culture in Seventeenth Century England (under contract with UPenn Press).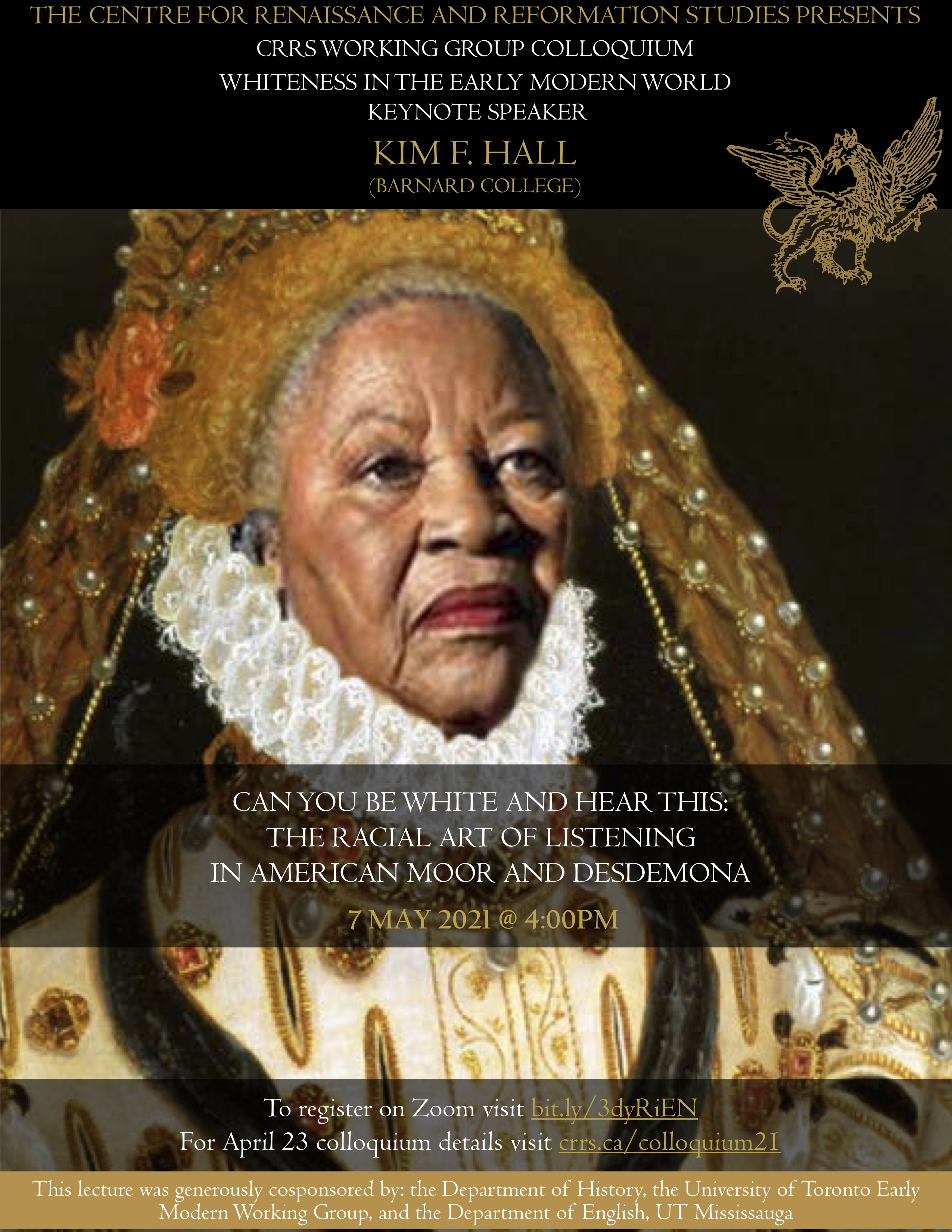 Sponsors
Centre for Renaissance and Reformation Studies